CL Series Centrifuge Filter
| | |
| --- | --- |
| Filtration Effect: | 70% for 3μ and 95% for 10μ |
| Unit Flow Rates: | 50, 60, 80, 100 and 150 L/min. |
The CL centrifuge is offered as a manual, semi-automatic and automatic system. The filter effect is accomplished by high speed rotary bowl. When rotating, the contaminants will attach to the wall of the rotary bowl due to centrifugal force leaving clean coolant to flow out from the center. Works with both oil and water based coolants.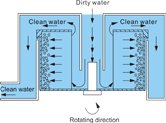 | | |
| --- | --- |
| Manual Type: | CL-50 and CL-80 |
| Semi-automatic Type: | CL-60, CL-100 and CL-150 |
| Automatic Type: | CLA-100 |
Suitable for Carbon, Carbide, glass, aluminum, stainless steel, graphite, and quartz.
Flow rates can be increased by using multiple units.
Applications:
Deep hole drilling machines, honing machines, EDM, polishing machines, precision grinding machines, gear grinding machines, cleaning machines, lens grinding machines, glass processing machines and to clean the impure dust inside the hydraulic oil etc…