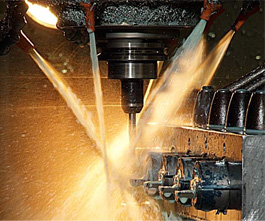 Coolants and Cutting Oils
Heavy-Duty Machining and Grinding Fluids for use with all types of metals.
Bio-stable formulation minimizes the use of additives.
Excellent corrosion protection protects the machine and work piece.
Enhanced metal removal rates reduce cycle times.
Available in 55-gallon drums and 5-gallon pails
Use Concentration

Type-715

Water soluble oil

Ideal for medium and heavy duty machining and grinding applications. High or low carbon steels, Aluminum, alloy steel, titanium, copper, stainless, cast/nodular/gray iron.

Type-795

Water soluble synthetic

Biostatic, low foaming synthetic machining and grinding coolant. High performance and superior rust protection. (Most popular product)

Type-711

Water soluble synthetic (CARBIDE)

High quality synthetic coolant specifically designed for grinding cemented carbide tools. Contains inhibitors minimizing the dissolving of cobalt into the fluid.

Type-900

Heavy Duty Machine Cleaner

Formulated to rinse deposits/residues off machines, coolant sumps, and coolant distribution systems. Organic components, biocides and rust inhibitors make this product an effective solution for proper system and machine maintenance.